Obituaries » Hallie Marie Christian
September 17, 1932 - November 26, 2018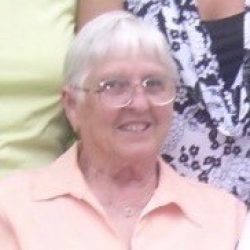 Visitation: 5:00 – 7:00 PM on Tuesday, Nov. 27 at the Johnson-Arrowood Funeral Home

Funeral Service: 7:00 PM on Tuesday, Nov. 27 in the funeral home chapel

Graveside Service: 11:00 AM on Wednesday, Nov. 28 at Church Hill Memory Gardens

Family, friends, & pallbearers are to meet at the funeral home by 10:15 AM to go in procession
CHURCH HILL – Hallie Marie Christian, 86, passed away peacefully & surrounded by her family on November 26, 2018.
Marie resided in Church Hill most of her life. She enjoyed visiting friends at the Community Clothes Closet & watching her grandsons play ball. She also enjoyed quilting, crocheting, making candy, & cooking for her large family.
She was preceded in death by her parents, Charlie & Helen Seals; brothers, Bud Seals (Agnes) & Jack Seals; sister, Wanda Rogers (TJ); grandson, Steven Fields; great granddaughter, Addie Dykes; sons-in-law, Ray Johnson, Carl Hensley, & Jim McMillan; infant son, Terry Wayne; sisters-in-law, Brenda Seals & Grace Hawkins.
Marie is survived by her love, Robert Christian; children, Judy McMillan of Kingsport, Jimmy Christian (Terri) of Church Hill, Connie "Sissy" Meade (Jerry) of Kingsport, & Brenda Hensley of Kingsport, Steve Christian (LaDonna) of Church Hill, & Debbie Johnson of Kingsport; grandchildren, Paige Saylor, Joey Allgood, Jamie Christian, Kelly West, Austin Fields, Jesse McMillan, Kevin McMillan, Kayla Hughes, Christian Hunley, Dr. Dylan Christian, & Megan Hunley; 17 great grandchildren, 1 great-great grandchild, brothers, GB Seals (Jo) of Church Hill, John Seals of Church Hill; sisters, Christine Robinson of Mt. Carmel, Sue Harvey (Jim) of Kingsport; sisters-in-law, Dorothy Barnett of Indiana & Sharon Seals of Rogersville.
A visitation will be held from 5:00 – 7:00 PM on Tuesday, November 27, 2018 at the Johnson-Arrowood Funeral Home. Funeral service will be conducted at 7:00 PM in the funeral home chapel with Rev. Mike Torrence officiating. A graveside will be conducted at 11:00 AM on Wednesday, November 28 at Church Hill Memory Gardens. Those wishing to attend the graveside service are asked to meet at the funeral home by 10:15 to go in procession. Pallbearers will be family & friends.
Gathering of friends will be at the home of Marie's son, Jim Christian. 513 Old Union Road Church Hill.
The Christian family would like to thank the staff at Wexford House for the excellent care and attention they gave to their mother, "Ms. Hallie."
To leave an online message for the Christian family, please visit us at www.johnsonarrowood.com
Johnson-Arrowood Funeral Home is honored to serve the Christian family.