Obituaries » Hugh Lee Spears
January 31, 1940 - January 8, 2019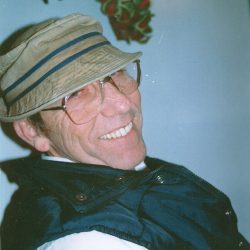 Visitation: 5:00 – 7:00 PM on Saturday, January 12, 2019 at the Johnson-Arrowood Funeral Home

Funeral Service: 7:00 PM on Saturday, January 12, 2019 in the funeral home chapel

Graveside Service: 2:00 PM on Sunday, January 13, 2019 at Elm Springs Cemetery

Family, Friends, & Pallbearers are to meet at the funeral home by 1:15 PM
CHURCH HILL – Hugh Lee Spears, age 78, Church Hill, Tennessee, passed away Tuesday, January 8, 2019 at his home following a well-fought cancer battle.
Hugh was born at McCloud, TN near Rogersville on a snow-covered day, January 31, 1940.
Son of Leona (Lawson) Spears and Howard Spears, he called McCloud home until the Tennessee Valley Authority (TVA) located John Sevier Steam Plant there in the 1950s.
Having attended McCloud Baptist Church as a child, Hugh was also part of the congregation at Lyons Park Missionary Baptist Church for more than two decades, and finally called Calvary Church in Johnson City home for the past 10 years.
Hugh Lee was a 1958 graduate of Rogersville High School, having also attended East Tennessee State University, the United States Armed Forces Institute, and University of Maryland where he studied mathematics, science and Trade and Industrial Teaching.
In 1964, he joined the U.S. Navy where he was an Aviation Electronics Technician, having reenlisted and remained there until 1976, including time spent in Vietnam.
Hugh served as an instructor on the AQA-7 for Naval Air Maintenance Detachment 1011 (P3) where he was responsible for the development of an AN/AQA-7 (V) Maintenance Course which, according to his former commanding officer, "resulted directly in improved P3 aircraft ASW mission capability and readiness."
He also explored the world having lived in Jacksonville (Fla.), Hollywood (Md.), Honolulu, Okinawa (Japan), and Thailand, where he became an avid amateur photographer.
During his military service, he was awarded the National Defense Service Medal, the Vietnam Service Medal, and the Armed Forces Expeditionary Medal (Korea).
Hugh used his second reenlistment funds to purchase his parents their first home.
In 1977, following an honorable discharge, Hugh was employed by Holston Valley Community Hospital, Kingsport, and later Wellmont Holston Valley Medical Center as a clinical engineer.
He retired in 2017 following recognition of his 41 years of service.
He is preceded in death by his parents, as well as brothers James, David (Dave), Charles (Lin), and Elbert (Ray) Spears.
He is survived by his wife of 43 years, Nina Ruth (Harris) Spears of the home; a son, Joel Shane Spears also of Church Hill; sisters, Betty Price of Nashville and Mary Sue Trawick of Columbus, Ga.; and brother, Raymond (Doug) Spears also of Church Hill; along with several cousins, nieces and nephews.
A visitation will be held from 5:00 – 7:00 PM on Saturday, January 12, 2018 at the Johnson-Arrowood Funeral Home. A funeral service will be held at 7:00 PM in the funeral home chapel. A graveside service will be conducted at 2:00 PM on Sunday, January 13 at Elm Springs Cemetery. Those wishing to attend the graveside service asked to meet at the funeral home by 1:15 PM to go in procession.
Nina and Joel would like to thank Hawkins County Cancer Support Group (HCCSG) for its generosity with travel expenses to and from Hugh's many doctor appointments, radiation and chemotherapy treatments.
In lieu of flowers, financial donations may be made "In Memory of Hugh Spears" to the HCCSG by mailing them to Hawkins County Cancer Support Group P.O. Box 253, Surgoinsville, TN. 37873.
To leave an online message for the Spears family, please visit us at www.johnsonarrowood.com
Johnson-Arrowood Funeral Home is honored to serve the Spears family.