Obituaries » James "Jim" Haskell Collier
September 30, 1942 - August 30, 2019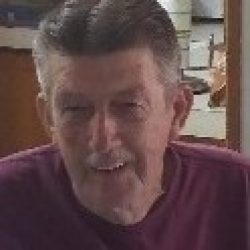 Visitation: 5:00 – 7:00 PM on Tuesday, September 3, 2019 at the Johnson-Arrowood Funeral Home

Funeral Service: 7:00 PM on Tuesday, September 3, 2019 in the funeral home chapel

Graveside Service: 11:00 AM on Wednesday, September 4, 2019 at McPheeters Bend Cemetery

Family, friends, and pallbearers are to meet at the funeral home by 10:15 AM to go in procession
CHURCH HILL – James "Jim" Haskell Collier, 76, passed away on Friday, August 30, 2019 at Holston Valley Medical Center.
Jim was a lifelong resident of Hawkins County and of the Baptist faith. He retired from Eastman Chemical Company in 1997 and loved to trade, mow, and working in the outdoors.
He was preceded in death by his parents, Clyde and Myrtle Christian Collier; son, Michael Haskel Collier; brother, Vernon Collier.
Jim is survived by his special companion, Rosezella Horton; daughters, Pennie Collier (Michael Smith) and April Collier Parra (Rudy); grandchildren, Sarah Collier and Triston Parra; great grandchildren, Israel Seymore, Chloe Seymore, and Noah Winkle; sisters, MaryEtta Simpson (James) and Faye Mantooth; several nieces and nephews.
A visitation will be held from 5:00 – 7:00 PM on Tuesday, September 3, 2019 at the Johnson-Arrowood Funeral Home. A funeral service will be conducted at 7:00 PM in the funeral home chapel with Timmy Morelock officiating. A graveside service will be held at 11:00 AM on Wednesday, September 4, 2019 at McPheeters Bend Cemetery. Those wishing to attend the graveside service are asked to meet at the funeral home by 10:15 AM to go in procession. Family and friends will be pallbearers.
To leave an online message for the Collier family, please visit us at www.johnsonarrowood.com
Johnson-Arrowood Funeral Home of Church Hill is honored to serve the Collier family.