Obituaries » Janet L. "Jan" Whitaker
August 15, 1941 - April 6, 2019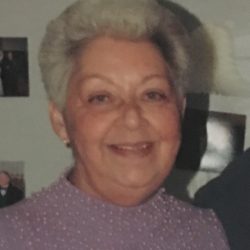 Visitation: 4:00 – 7:00 PM on Thursday, April 11, 2019 at the Johnson-Arrowood Funeral Home

Funeral Service: 7:00 PM on Thursday, April 11, 2019 in the funeral home chapel

Graveside Service: 1:00 PM on Friday, April 12, 2019 at Liberty Hill Cemetery

Family, friends, and pallbearers are to meet at the funeral home by 12:15 PM to go in procession

Add A Guestbook
Posted by:
Ann Linkous Trent
Posted on:
June 1, 2019
So sorry to hear about the loss of Mrs. Whitaker. Please know that the entire family is in our thoughts and prayers. David and Ann (Linkous) Trent and Family
Posted by:
Richard Easley
Posted on:
April 12, 2019
Butch, Chip, and Steve — so sorry to hear about Jan's passing. Gary just told me and said that he had just found out himself. Jan & Butch — you hold a very special place in my heart — two finer individuals cannot be found. You guys are the most selfless, caring, kind and compassionate people that I have ever known and I will never forget the many nights of fun and fellowship at your home when I lived in Kingsport in my 20s. Chip & Steve, I'm not telling you anything that you don't already know, but your mom was truly one of a kind and I was (and am) honored to be known as her stepbrother. From the time that Eldridge and my mom met, I knew that your mom and dad were very special. I pray that God comforts you during your time of loss and beyond. Most sincerely, Richard Easley
Posted by:
Gary Easley
Posted on:
April 12, 2019
Butch and family, so sorry for your loss. I did not see the obituary until today. My apologies for not being there to pay my respects.
Posted by:
Louise (Weems) Collier
Posted on:
April 11, 2019
So sorry to hear about Jan. She is out of her suffering now and enjoying her time in heaven. Our love and prayers are with you , Chip and family. Pray God will give you all the peace and comfort that you need during these times and the coming days ahead. Not sure if we can make it to the funeral home but you are in our thoughts and prayers always! Love and prayers, Ron and Louise Collier
Posted by:
Roberta
Posted on:
April 10, 2019
Butch and family, I'm so sorry for your loss of Jan. She's a beautiful and sweet lady. She is just gone to a better place to be with Jesus. You all will join her soon. I think time is about to finish up on this earth. God bless you all now and in the future. I'm praying for you!
Posted by:
Roger Connell
Posted on:
April 10, 2019
Butch, Chip and Steve, So sorry for your lost. Sending thoughts and prayers for you and your all your family. I have always had the highest regard for your family.
Posted by:
doyle, and mary lou dykes
Posted on:
April 9, 2019
we r so sorry to hear about Jan, she was a very sweet and kind lady,,,so glad we got to know her, we love you all, you are in our prayers,,god bless all of you.....
Posted by:
Raymond \\
Posted on:
April 9, 2019
Butch, I am so sorry to hear of your loss of Jan. May GOD confort you during this difficult time. Sorry I can't be there at this time. Raymond "Butch" Ward
Posted by:
Bob and Kay Grimes
Posted on:
April 9, 2019
Our love, prayers and sympathy in your loss! May God bless each of you!
Posted by:
Ray and Judy Trent
Posted on:
April 9, 2019
Butch, So sorry to hear of the passing of your wife. You and your family are in our thoughts and prayers.
Posted by:
Wayne \\
Posted on:
April 8, 2019
Butch, sorry to read about the passing of your wonderful wife, Jan. She was always so nice when we were playing ball together. I am sure you and your family will miss her very much. My prayers are with you and all your family.
Posted by:
Christina
Posted on:
April 8, 2019
God saw you getting tired and a cure was not to be so he put his arms around you and whispered, "Come to Me Precious Aunt Jan, The joy your soul has right now! Praise His Holy name! Sing beautiful songs! Your spirit was precious, your smile infectious your love endless. Thank you Father for allowing Aunt Jan in my life. There is much work to be done here so I will press foreward for the sake of Christ I Will see you when God whispers to me Christina (Niece) I am dwelling on a mountain, Where the golden sunlight gleams O'er a land whose wondrous beauty Far exceeds my fondest dreams; Where the air is pure, ethereal, Laden with the breath of flowers, They are blooming by the fountain, 'Neath the amaranthine bowers. I can see far down the mountain, Where I wandered weary years, Often hindered in my journey, By the ghosts of doubt and fears; Broken vows and disappointments Thickly scattered all the way; But the spirit led unerring to the land I hold today. I am drinking at the fountain, Where I ever would abide, For I've tasted life's pure river, And my soul is satisfied; There's no thirst for earthly pleasures, Nor adorning rich and gay, For I've found a richer treasure, One that fadeth not away. [Chorus] Oh! the cross has wondrous glory! Oft I've proved this to be true, When I'm in the way so narrow, I can see a pathway through; And how sweetly Jesus whispers, "Take thy cross, thou need'st not fear, For I've trod the way before thee, And the glory lingers near." Is not this the land of Beulah? Blessed, blessed land of light; Where the flowers bloom forever, And the sun is always bright?