Obituaries » Joyce Cradic Woods
July 18, 1932 - September 24, 2019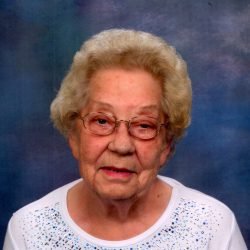 Visitation: 6:00 – 8:00 PM on Thursday, September 26 at the Johnson-Arrowood Funeral Home

Funeral Service: 8:00 PM on Thursday, September 26 in the funeral home chapel

Graveside Service: 11:00 AM on Friday, September 27 at Church Hill Memory Gardens

Family, friends, and pallbearers are to meet at the funeral home by 10:15 AM
CHURCH HILL – Joyce Cradic Woods, 87, passed away on Tuesday, September 24, 2019 at her residence.
She was a lifelong resident of Hawkins County and was a member of Goshen Valley Freewill Baptist Church for 50 plus years.
She was preceded in death by her son, James Franklin Woods; parents, Arlie and Willie Cradic; siblings, William Clayton Cradic, Arlie Robert Cradic, Jr., Franklin Delano Cradic, and Virginia Ruth Worley.
Joyce is survived by her husband, Billy Woods; daughter, Freda Lane (Phillip); grandchildren, Kristen Lane, Holly Luther (Billy), Deanna Cox, and Kayla Woods; great grandchildren Braden Slagle, Henley Luther, Parker Housewright, and Melody Depee; sister, Shirley Merritt; brothers-in-law, Jackie Woods (Glenda) and Dr. Benny Woods (Carolyn); sisters-in-law, Janet Christian (Pal) and Nell Sawyer; several nieces and nephews.
A visitation will be held 6:00 – 8 :00 PM on Thursday, September 26, 2019 at the Johnson-Arrowood Funeral Home. A funeral service will be conducted at 8:00 PM in the funeral home chapel with Dr. Benny Woods and Rev. David Morelock officiating. A graveside service will be held at 11:00 AM on Friday, September 27 at Church Hill Memory Gardens. Those wishing to attend graveside service are asked to meet at the funeral home by 10:15 AM to go in procession.
Family and friends will serve as pallbearers. Honorary pallbearers will be Kyle Pearcy, Braden Slagle, and Ted Brice.
To leave an online message for the Woods family, please visit us at www.johnsonarrowood.com
Johnson-Arrowood Funeral Home of Church Hill is honored to serve the Woods family.