Obituaries » Ronald L. "Ronnie" Monroe
February 11, 1963 - May 18, 2019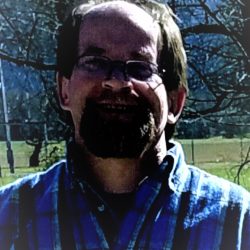 Visitation: 5:00 – 8:00 PM on Wednesday, May 22, 2019 at the Johnson-Arrowood Funeral Home

Funeral Service: 8:00 PM on Wednesday, May 22, 2019 in the funeral home chapel

Graveside Service: 11:00 AM on Thursday, May 23, 2019 at Morning Star Cemetery

Family, friends, and pallbearers are to meet at the funeral home by 10:15 AM to go in procession
KINGSPORT – Ronald L. "Ronnie" Monroe was called home to Heaven on Saturday, May 18, 2019 and received a wonderful man.
After graduating from Volunteer High School, Ronnie lived a life of adventure with his honorary brothers drag racing, breaking and fixing cars (He was a great mechanic.), and riding "The Snake" to Bobarosa to eat with the gang. Ronnie left our family with memories of 4-wheelin, fishin, and lovin. Courage through hard times was a blessing to a special family member.
Left to share his memories are his dad, James "Jim" Monroe and Shasta; his spouse, Anita (Goad); their children, Payton Dingus, Mylinda Dingus, Dathon Dingus, Jermy Steffey, and grandchildren, Addalyn and Isaiah; very special nieces, Kayla (Daniel) Adams, children Kylar and Kaleena, Madison (David) Brickey, daughter Norah; the Goad-In-Laws; Sandra Barrett-Goad, Clay (Courtney) Goad, John (Jessica) Goad; along with a host of cousins, aunts, and uncles he loved.
The family with receive friends on Wednesday, May 22, 2019 from 5:00 – 8:00 PM at the Johnson-Arrowood Funeral Home. The funeral service will follow at 8:00 PM with Rev. Gary Gerhardt officiating. Graveside services will be at 11:00 AM on Thursday, May 23, 2019 at Morning Star Cemetery with Rev. Mitch Russell officiating. All those wishing to go in procession are asked to meet at the funeral home at 10:15 AM Thursday morning.
Pallbearers will be Johnny Skelton, Jim Stinson, Michael Yates, David Brickey, Daniel Adams, Wayne Webb, Michael Bradshaw and Larry Bradshaw. Honorary pallbearers Joey Grandy, Freddie Lee Castle, Chris Light, and Payton Dingus.
To leave an online message for the Monroe family, please us at www.johnnsonarrowood.com
Johnson-Arrowood Funeral Home of Church Hill is honored to serve the Monroe family.