Obituaries » Hallie Marie Christian
September 17, 1932 - November 26, 2018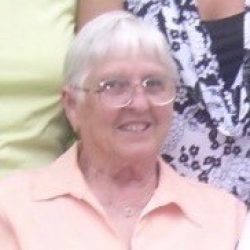 Visitation: 5:00 – 7:00 PM on Tuesday, Nov. 27 at the Johnson-Arrowood Funeral Home

Funeral Service: 7:00 PM on Tuesday, Nov. 27 in the funeral home chapel

Graveside Service: 11:00 AM on Wednesday, Nov. 28 at Church Hill Memory Gardens

Family, friends, & pallbearers are to meet at the funeral home by 10:15 AM to go in procession

Add A Guestbook
Posted by:
Garry & Pam Garretson
Posted on:
November 27, 2018
Family, know that our prayers will be with you during this time. She was a good mom, and I know she was proud of you all. God bless you.
Posted by:
Barbara Conkin Vanzant
Posted on:
November 26, 2018
I am so sorry to hear about Hallow Marie's passing. May God stand with you in your time of grief.