Obituaries » Helen Derrick Eachus
August 24, 1930 - November 13, 2019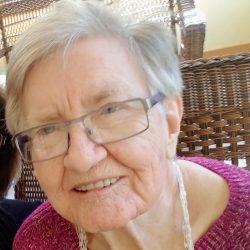 Graveside Service: 1:00 PM on Friday, November 22, 2019 at Highland Cemetery

Family and friends are to meet at the cemetery by 12:45 PM
MT. CARMEL – Helen Derrick Eachus, age 89 of Church Hill, passed away on November 13, 2019. Helen was born in Kingsport, Tennessee, on August 24, 1930.
She was preceded in death by her husband, Eric John Eachus; her daughter, Martha Jon Eachus Clark; her brother, James M. Derrick, Jr.; and her parents, Bertha E. and James Michael Derrick, Sr.
Surviving family members include several nieces and nephews.
Helen was a charter member of the First Baptist Church in Church Hill. She was a devoted mother and homemaker and lived in several locations in the South before retiring in Mt. Carmel. We will miss Aunt Helen's sweet spirit, her kisses, and her lemon tarts. The family thanks the staff, administration, and medical personnel at The Village at Allandale for their warm, loving care. They loved Aunt Helen, and she loved them.
A graveside service will be held on Friday, November 22, 2019 at 1:00 at Highland Cemetery in Rogersville with Rev. Gary Gerhardt officiating. Those wishing to attend the graveside service are asked to meet at the cemetery by 12:45 PM.
In lieu of flowers, gifts may be sent to First Baptist Church in Church Hill.
To leave an online message for the Eachus family, please visit us at www.johnsonarrowood.com
Johnson-Arrowood Funeral Home of Church Hill is honored to serve the Eachus family.