Obituaries » Nell Barbour Hale
October 5, 1928 - October 30, 2019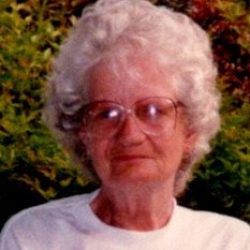 Visitation: 11:00 AM – 1:00 PM on Saturday, November 2, 2019 at the Johnson-Arrowood Funeral Home

Funeral Service: 1:00 PM on Saturday, November 2, 2019 in the funeral home chapel

Graveside Service: The burial will follow to Church Hill Memory Gardens
MT. CARMEL – Nell Barbour Hale, 91, passed away on Wednesday, October 30, 2019 at Church Hill Healthcare and Rehab.
Nell spent most of her life in Mt. Carmel and was a charter member of Belmont Baptist Church.
She was preceded in death by her husband, Onnie H. Hale; son, Gary Hale; father, John Barbour; mother, Alice Barbour; sisters, Betty June Wellmaker, Elizabeth Barbour, and Mary Ann Lawson.
Nell is survived by her daughter, Kathy Loggans; sons, Paul Hale and Jeff Hale; brother, J. C. Barbour; sisters, Ruth Drinnon (Neal) and Arletha Newton (Chuck); grandchildren, Greg Wright, Brian Wright, Curtis Hale (Kendra), Jason Mullins (Jessica), Kevin Hale (Kala), Matt Hale (Kim), Joey Hale, Jamie Hale, Barbara Moore (Jeremy), and Jasper Hale; daughter-in-law, Debbie Frost Hale; great granddaughter, Millie Jade Hale and a great grandchild coming in 2020; she was Nanny to many, especially, Sara and Abby Minor.
A visitation will be held from 11:00 AM – 1:00 PM on Saturday, November 2, 2019 at the Johnson-Arrowood Funeral Home of Church Hill. A funeral service will be held at 1:00 PM in the funeral home chapel with Elder Neal Drinnon, Elder Curtis Hale, Rev. Mike Jones, and Rev. Brian Wright officiating. Music will be provided by Kala Hale. The burial will follow to Church Hill Memory Gardens.
Pallbearers will be family and friends.
In lieu of flowers, memorial contributions may be made to Belmont Baptist Church or a charity of your choice.
To leave an online message for the Hale family, please visit us at www.johnsonarrowood.com
Johnson-Arrowood Funeral Home of Church Hill is honored to serve the Hale family.