Obituaries » Everlyn Ora Mae Bradshaw
April 16, 1930 - August 1, 2019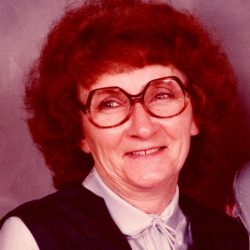 Visitation: 6:00 – 8:00 PM on Tuesday, August 6, 2019 at the Johnson-Arrowood Funeral Home

Funeral Service: 1:00 PM on Wednesday, August 7, 2019 at the Church Hill Church of God

Graveside Service: Following the funeral service to Morning Star Cemetery
CHURCH HILL – Evelyn Ora Mae Bradshaw, 89, passed away on Thursday, August 1, 2019 at her residence.
Evelyn was born in Knoxville but spent her entire life in Church Hill. She had been an employee of Indian Path for several years. She was the oldest charter member of Church Hill Church of God where she was the Kindergarten Sunday School teacher for many years. She loved all children, and many called her Nanny.
She was preceded in death by her husband, Paul Bradshaw; son, Rev. Paul Ed Bradshaw; great grandson, Joshua Auge; parents, E.P. "Pete" and Anna Bell Hensley Monroe; brother, Rev. Joe Monroe; sisters, Ethel Linkous and Jean Monroe.
Evelyn is survived by her daughters, Patty Yates (Benny) and Teresa Frost (Donnie Housewright); son, David Bradshaw (Anita); 11 grandchildren, 19 great grandchildren,10 step great grandchildren, 1 great-great grandchild, 1 future great-great grandchild; special brother, Earl Hensley (Jean) ; special friends, Judy Swift and Glenda Johnson; daughter-in-law, Teresa Bradshaw along with several extended family members.
A visitation will be held from 6:00 – 8:00 PM on Tuesday, August 6, 2019 at the Johnson-Arrowood Funeral Home or anytime at Patty's residence. A funeral service will be held at 1:00 PM on Wednesday, August 7, 2019 at Church Hill Church of God with Rev. Andy Sensabaugh and Rev. Bobby Fultz officiating. The burial will follow to Morning Star Cemetery.
Pallbearers will be family and friends.
To leave an online message for the Bradshaw family, please visit us at www.johnsonarrowood.com
Johnson-Arrowood Funeral Home of Church Hill is honored to serve the Bradshaw family.